Running iOS 14? See our iOS Screen Sharing Update!
BeyondTrust offers the most secure control for Apple devices. This blog post applies to screen sharing support for iOS devices running iOS versions 12 -14.
With iOS 12 -14 plus BeyondTrust Remote Support, iPad/iPhone screen sharing is available over WiFi or cellular network connections. Check out our tutorial to see how to set it up.
iOS Screen Sharing for iOS 12-14
The help desk and IT support organizations we serve tell us they are getting more requests to support iPads and iPhones as a result of the increase in remote workers Often, there's a hint of mild frustration in the voice. As advanced as iOS devices are, the process of supporting them, ironically, takes one back to the days before screen sharing. "Go to Settings … now swipe down … do you see Mail, Contacts, Calendars?"
BeyondTrust's Remote Support solution offers the most comprehensive, real-time viewing of iPads and iPhones possible. With remote camera sharing, you can see the screen of the remote device, including the camera, all the apps, and their associated settings. Basically, whatever the user sees, you can see.
As useful as this screen sharing capability is, there are some limitations. So, I thought a blog post that clarifies what iOS Screen Sharing is and shows how it works would be worthwhile.
What is iOS Screen Sharing with Apple Devices?
Technically, the screen sharing session occurs between a remote device and the support rep using the Beyondtrust "Remote Support" App for Apple, available in the Apple App store. This can also be preconfigured with an MDM solution as well for managed devices. There are several ways of initiating a session to those remote devices, including a session key, Portal Site, or email.
As with other Remote Support sessions, the remote customer can choose whether to allow screen sharing or not once the session is established. The BeyondTrust solution can also record a video of the screen sharing session for auditing and compliance purposes.
What are the Screen Sharing Requirements?
For the support rep side of the session, you need the following:
BeyondTrust Remote Support 20.1.2 + (iOS Screen Sharing is not available with our Privileged Remote Access product)
Windows, Mac, or Linux Desktop Rep Console
When connecting from our mobile apps, the Beyondtrust Rep Console app can be used for the customer side of the support session. The following are necessary:
iPad or iPhone running iOS 12 +
BeyondTrust Remote Support App
I should probably also reiterate here that there is no direct remote control of, or direct screen sharing with, the iOS device. The interaction with the iOS device is limited to View Only, while support to a standard Mac can be full control.
Start iOS Screen Sharing
A session can be initiated using either the portal site or from the Support Rep.

Viewing the Screen
Once screensharing has commenced, there is an on-screen notice about how to enable screen sharing as shown here: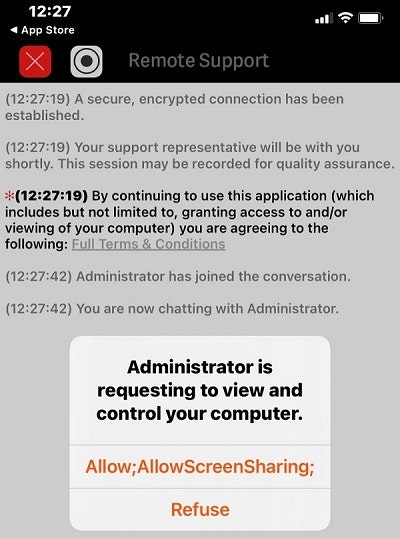 Once you can see the screen of the remote iOS device, you can guide the customer through troubleshooting the device. Remember, this is view only, but you are now able to see what the remote device is.
After the Session, Save the Video for Reporting/Training Purposes
One benefit of using BeyondTrust for remote support is the detailed audit record each session generates. With iOS screen sharing, a video of the remote support session can be recorded and saved.
Learn more about Remote Support:
Duane Simms,

Senior Product Manager