It was "lights out and away we go" at this year's Go Beyond conference, where we welcomed hundreds of customers and partners from around the globe for a week of learning, networking, and fast cars.
We were thrilled to bring Go Beyond back to the JW Marriott Turnberry in beautiful Aventura, Florida for inspiring keynotes, insightful master classes, technical deep dives and training, and some exciting parties.
Here's a recap of the week, just in case you missed it!
Monday, May 1
We welcomed our global partners to Partner Connect Day, where we had representation from partners from all over the world sharing their insights and experiences with our channel leaders.
For those customers who arrived ready to learn, we kicked off our workshop series with the BeyondTrust University team that afternoon.

To top off day one, we welcomed everyone to the pool for Game Night.
Of course, we had to make a "splash" on game night by kicking off our own, cybersecurity-themed game. In the XPloit Game, participants got to sit on the other side of the attack chain. They had to complete a series of challenges in order to hack the Formula 1 Mercedes Team!
Tuesday, May 2
With a full day of conference sessions ahead, attendees were with us bright and early as our CEO, Janine Seebeck, welcomed the group.
Arguably, the most exciting news was when we revealed a first look at Identity Security Insights, our new product that provides unique intelligence to proactively reduce the attack surface. Identity Security Insights provides a centralized view of identities, accounts, and privileged access across your IT estate, and we were thrilled to have Chris Dailey from Benjamin Moore report on their early findings using the product. Identity Security Insights will be released for general availability later this year. When combined with other BeyondTrust products and third-party solutions, Identity Security Insights can also help organizations unlock powerful identity threat detection and response (ITDR) capabilities.
After lunch, Nick Fry, Former CEO of Mercedes F1 and Non-Executive Chairman, took the stage as our Day 1 Keynote speaker and spoke to the audience about how to Survive, Drive and Win in a fascinating session that was filled with stories from behind the scenes at F1.
It was the perfect segue to our BeyondTrust Grand Prix Party that evening!
Wednesday, May 3
With only a few hours left until we revealed the winning team of the Xploit Game, attendees scrambled to unlock the final challenges in the app to secure their spots on the leaderboard.
Wednesday was also the last opportunity to earn pins for prizes at the Swag Store, so customers and partners were busy visiting the Partner Pitstop, chatting to our podcast team at the Adventures of Alice and Bob booth, and more.
We also hosted our much-anticipated roadmap sessions on Wednesday morning where the audience got a much closer look at the new developments coming for each of our products. Afterwards, our CSO, Morey Haber, took to the stage with John J. Masserini to walk through a CISO's journey to ZeroTrust.
To close out the morning, Bianca Lewis, 16-year-old white hat hacker and founder of Girls Who Hack, shared her fascinating journey in cybersecurity and taught the audience how they can inspire the next generation of cybersecurity experts.
After lunch, customers and partners who signed up for technical training headed upstairs to start their courses with the BeyondTrust University team.
We also welcomed our Customer and Partner Advisory Board Members for their first in-person meetings of the year and enjoyed dinner overlooking the Atlantic with them as Wednesday came to a close.
Thursday, May 4
For the first time ever, we brought together our Customer Advisory Board and our Partner Advisory Board for a joint workshop from the team at Strategyn, who developed the Jobs to be Done framework. In this exercise, we obtained valuable insights from the group around our new Identity Security Insights product.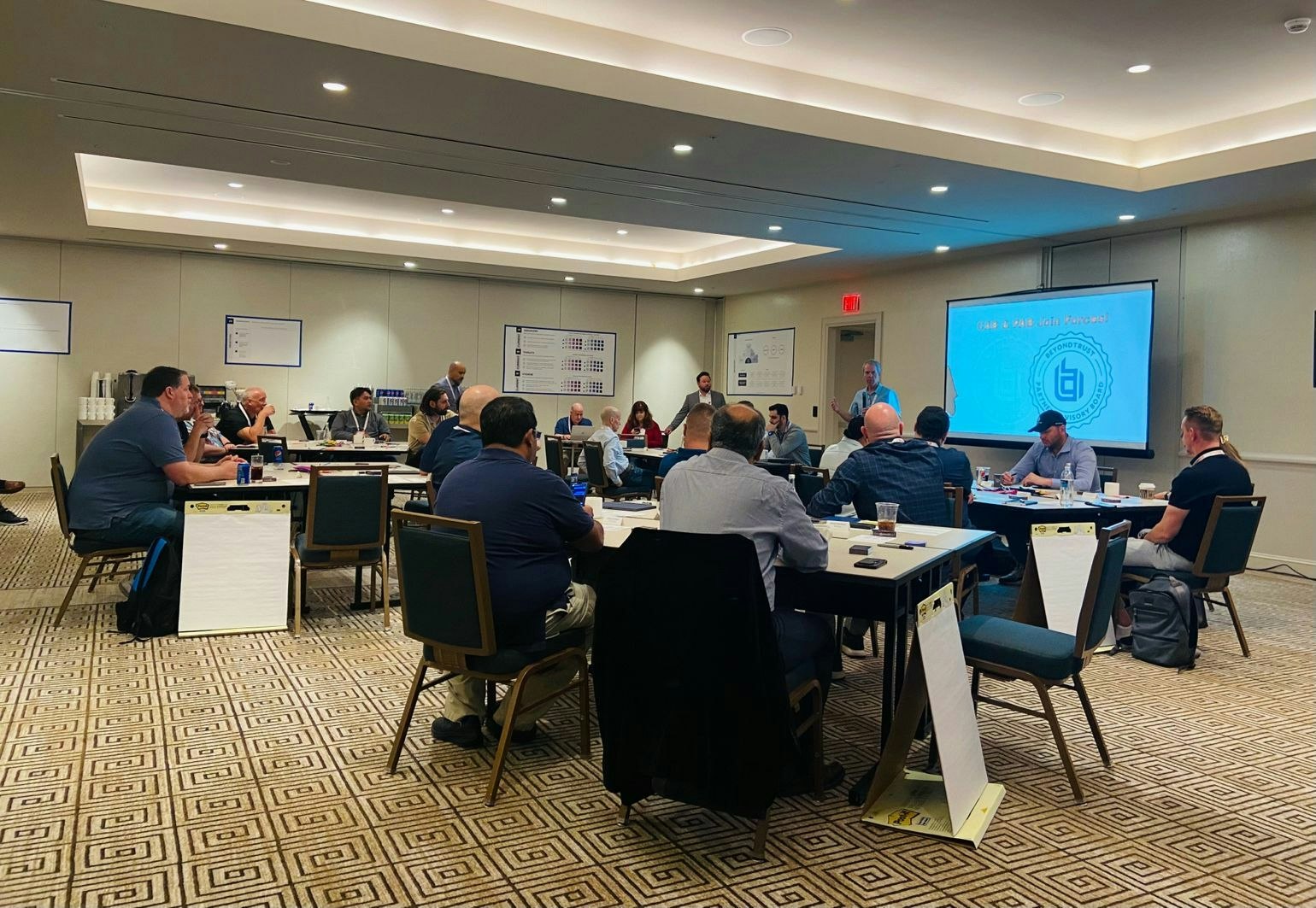 After a productive workshop, the team was ready to let loose at the Formula 1 Experience. We shuttled the group to Hard Rock Stadium for a behind-the-scenes look at the F1 Miami track, including a pitlane walk, track tour, trophy photos and more! Was that Lewis Hamilton that just zipped by on his scooter? (Spoiler alert: it was!)
Friday, May 5 - Sunday May 7
As the technical training came to a close and BTU Instructors and their students got ready to head home from a long week, some of us were just getting warmed up for a full weekend of racing activities.
With our seats secured at the Start/Finish line, we got to bring some of our top customers and partners to join us as we watched Max Verstappen speed through the finish line and take home the coveted trophy.
It was one for the memory books, and while many of those in attendance were already F1 fans, it also created brand new fans out of folks who knew nothing about F1 before the weekend started.
And as we left to go home, we couldn't help but wonder…how are we going to top this for next year? Hang tight, we're working on it!
Visit our events page to learn where you can visit us next!
Kim Richard,

Director of Customer Marketing
As Director of Customer Marketing at BeyondTrust, Kim is responsible for the strategy and execution of marketing campaigns to BeyondTrust's army of more than 20,000 customers. Kim joined BeyondTrust (formerly Bomgar) in 2011, and has enjoyed working on a wide range of marketing programs and events during her tenure. She resides in Florida and enjoys traveling and brushing up on her culinary skills when she isn't chasing after her two boys.