BeyondInsight is the industry's most innovative and comprehensive privileged access management platform. The platform maximizes visibility, simplifies deployment, automates tasks, improves security, and reduces privilege-related risks. Password Safe combines privileged password and privileged session management to discover, manage, and audit all privileged credential activity. Together, BeyondInsight and Password Safe enable organizations to achieve complete control and accountability over privileged accounts.
Here's a brief summary of what's new with the release of version 6.10:
HTML5 Administrator User Interface
We have made significant progress as part of the migration from Adobe Flash-based user interface in BeyondInsight and Password Safe, with most screens now moved over to HTML5. We've also taken the opportunity to revisit much of the underlying code to introduce performance enhancements across the products. Users will notice an interface that is streamlined, faster, and more responsive.
New Features and Capabilities for Password Safe v6.10
Managed Systems

Managed Systems is a new concept related to the management of assets targeted for password management that are not directly related to a BeyondInsight Asset. This feature improves clarity into what is managed by Password Safe while also further simplifying the onboarding process. The addition of a brand-new Managed System Smart Rule type, will allow granular roles-based access control (RBAC) to all Managed System types, including Directories and Cloud services. This feature enhances the ability to segregate duties within the solution.
Onboarding Disabled Accounts
In response to customer requests, it is now possible to onboard disabled accounts into Password Safe via Smart Rules. This feature helps to ensure that those accounts that are not currently in use can be easily included under Password Safe management.
This release provides many improvements to the Password Safe session proxy, all designed to increase performance, usability, and functionality. For example, Session Proxy is now a 64-bit process making more memory on the appliances available for use, and bringing it in-line with other processes making the transition to 64-bit across the product. Enhanced Session Auditing (ESA) components can now be installed on target systems, eliminating the need to deploy them with each connection. SFTP and SCP Support means that file transfers within an SSH session are now presented in a human-friendly manner, giving the key information needed when reviewing recorded sessions.
Update Client Tools
Password Safe uses many native clients to connect to password change targets and this release includes updates to the database clients for MongoDB, MySql, Oracle, PostgreSQL, Sybase ASE and Teradata. This ensures support for the latest versions of these databases moving forward.
API Changes and Additions - We have added many new API endpoints, many related to the addition of Managed System in the product, as well as a few enhancements to existing endpoints.
New Features and Capabilities for BeyondInsight v6.10:
Dynamic Dashboards (Preview Only)
Customizable dashboards to provide key information at-a-glance support efficiency and productivity. These attributes allow a BeyondInsight administrator to create their own dynamic dashboards that include pertinent information to their organization. The administrator can monitor the solution from a single dashboard and can dive into more details with a simple click of the mouse. Please note that "Preview" means this feature is not generally available, yet – it will be live later this year. For now, our customers receive a preview of what's to come.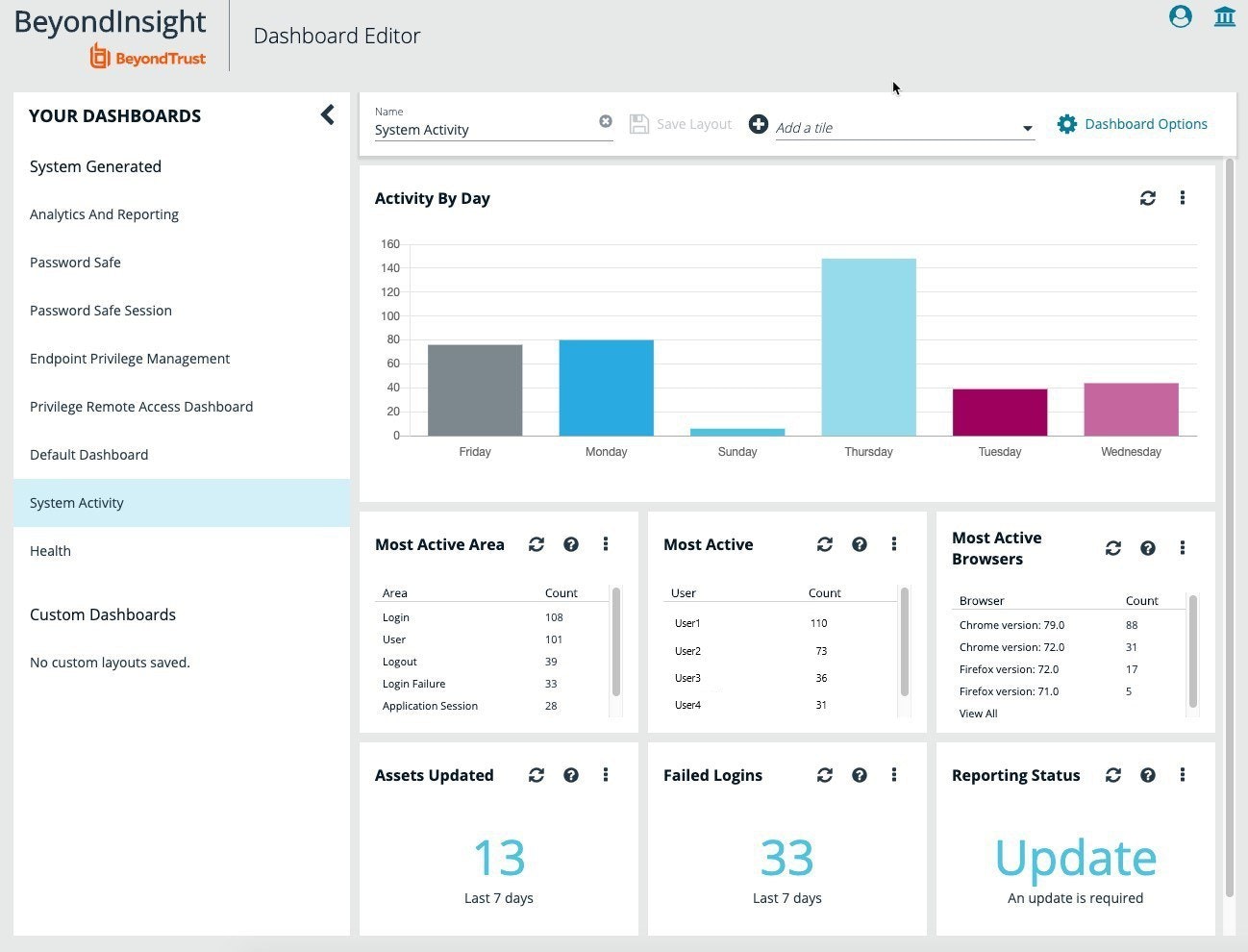 BeyondTrust Privileged Remote Access Integration
BeyondTrust's Privileged Remote Access (PRA) is now integrated with BeyondInsight. This integration allows administrators to leverage the platform for session details and reports of PRA. One report example is a new Dashboard view for PRA sessions, which users can access in the BeyondInsight interface.
Feature Enhancements for BeyondInsight v6.10:
API Update

Each release of BeyondInsight builds on the open API's available when automating or integrating with other parts of your infrastructure. Version 6.10 adds new APIs for Address Group Management. These new APIs allow for programmatic management of address groups to further facilitate scan target automation.
These new features and enhancements continue to expand BeyondTrust's technology-leading capabilities in the Privileged Access Management (PAM) space.
Want to learn more? Check out the What's New documents, or contact us to request a product demo today.
Alex Leemon,

Director, Product Marketing
Alex Leemon is Director, Product Marketing at BeyondTrust. She has over fifteen years of experience working with enterprise-level and Critical Infrastructure organizations solving safety and security challenges. Before joining BeyondTrust, Alex served in various roles related to the development of operational technology (OT) products and the Industrial Internet of Things (IIoT).