The Bomgar US team was busy at industry events last week– it was great to see so many customers at our booths at HDI (Washington, DC), Knowledge17 (Orlando, FL) and Interchange (Las Vegas). If you happened to be one of the lucky ones at these events, you probably got your share of orange swag and an earful about Bomgar. In case you were the one holding down the fort at the office while everyone else was out, I've kindly compiled a list of valuable lessons from our time on the road last week.
Here goes…
1) Sticky notes are NOT for Passwords.
Shocker, I know. But in case you or your team needed a reminder, we created these sticky notes. Perfect for that colleague whose password management system involves sticky notes plastered all over their monitor!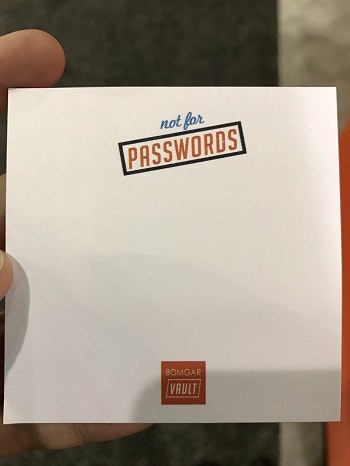 2) If you haven't integrated your remote support and ITSM or service desk tools, then you probably should.
Integrations were a key focus at both Knowledge and Interchange, Servicenow and Ivanti's annual user conferences. Integration enables the best possible support experience for our customers.  Not only can help desk technicians initiate a Bomgar remote support session directly from a ticket, users can also start a chat/remote support session via the self-service portal with just one click. At the conclusion of the session, all of the valuable session data including the chat transcript and video recordings automatically flow back onto the ticket, saving valuable time and effort. It's a no-brainer!
3) Service desks are often a target for hackers
At HDI, Bomgar's presentation, "Secure the Access, Secure the Account," delivered an important message: service desks are often a target for hackers looking to compromise privileged credentials to gain access to networks and systems with sensitive data. But Bomgar can help!  Using Bomgar Vault integrated with Bomgar Remote Support, support teams can leverage Credential Injection™ as a way of securing and protecting usernames and passwords for critical systems. When accessing remote desktops and systems, Bomgar Remote Support users can simply select from a list of credentials that have privileges on the systems they're approved to access. This eliminates the need to manually store and track credentials in spreadsheets or on sticky notes, significantly improving security and productivity.
4) Orange really is the new black
Just ask Brent Goodman, our marketing events coordinator. He rocked an orange blazer like nobody's business during Secure Access Feud, our interactive game at HDI. Brent quizzed some of the HDI attendees on various IT security and help desk topics (most common password, anyone?) and winners were able to walk away with some pretty neat prizes.
5) We have the best customers on the planet
There is no better reminder of this than simply attending one of these tradeshows. Having a constant stream of happy customers coming up to our booth and explaining how our product makes their lives easier serves as a reminder of why I love working for Bomgar.
6) The tradeshow may end, but the swag lives on forever
While speaking to a gentleman at our booth at Knowledge, my eyes were immediately drawn to a figure coming up the aisle in a bright orange shirt. As I focused in, I saw the word "BOMGAR" across the front and my instinct was to immediately flag her down. When she stopped, she explained that she was a happy customer and that the shirt must have come from Knowledge 2012. Five years later, the swag lives on.
So there you have it, folks. Lessons learned from the road, Spring 2017 edition. There's still a lot more on the 2017 schedule, so we hope to catch up in a city near you very soon!
Kim Richard,

Director of Customer Marketing
As Director of Customer Marketing at BeyondTrust, Kim is responsible for the strategy and execution of marketing campaigns to BeyondTrust's army of more than 20,000 customers. Kim joined BeyondTrust (formerly Bomgar) in 2011, and has enjoyed working on a wide range of marketing programs and events during her tenure. She resides in Florida and enjoys traveling and brushing up on her culinary skills when she isn't chasing after her two boys.