What is IT support?
In its broadest definition, IT support refers to any technical assistance offered to either individuals or companies in support of hardware or software. It typically focuses on helping a user troubleshoot a specific problem. To offer this support, a tech support agent will often require sensitive access to the user's (or organization's) network or device. This means it is important to have adequate security controls in place, such as privileged access controls, password management, remote access security, session management, etc. These will enable tech support to securely and productively do their job without creating security exposures, increasing threat vectors, and creating elevated risk.
IT support, also known as tech support, technical assistance, help desk, customer support, or service desk, can come in a variety of different forms, each coming equipped with various IT support certifications. These support aliases can be categorized into three areas:
In-house tech support
In-house tech support involves maintaining your own tech team to support the technical issues that can arise as a result of regular business operations. This can involve helping employees deal with technical problems, maintaining backups and security infrastructures, or helping a workforce to connect remotely. Most often, organizations will have an in-house tech team to support the development of a product, the implementation and maintenance of customized internal systems, or the organization's handling of sensitive data that can't be shared with third parties.
Outsourced tech support
Outsourcing tech support involves hiring a third-party company (i.e. a managed services provider) to fulfil your organization's technical support requirements. This can be done in varying levels, including
Break-fix support, where the outsourced company remotely fixes issues with your computers or network as they arise
Proactive support, where the outsourced IT team is monitoring your hardware and software to prevent system outages in your network
Fully managed support, where all of your IT support and maintenance needs are outsourced to your provider
Most often, organizations outsource their tech support to offer a comprehensive level of support while cutting costs, to leverage third-party IT support certifications, to free up their resources to focus on the business's key objectives, or when they need access to 24-7 support.
Professional Services/Customer Service
Professional services (pro services), otherwise known as customer service, is the support that is offered by an organization in service of the technological products or services you provide to your clients. This type of customer support typically offers a combination of technical support and practical customer service.
Pro services are largely designed to help ensure clients achieve a positive experience with your organization. It often forms an important part of a company's customer service philosophy. Organizations typically offer professional services when they provide products or services that require technically specialized or skilled maintenance. However, support-as a-service has also become an important competitive driver.
What does modern IT support look like?
IT services, whether they are internal- or external-facing, can either be managed by an internal IT team, or by a contracted or outsourced IT support service that has the correct level of certifications for IT support.
Small companies may only require a small, internal IT team, or even simply one IT generalist on staff. However, small companies increasingly rely on external support for applications or for cloud services. Larger organizations, or companies requiring Tech support-as a-service, may have multiple departments with numerous workers dedicated to their various IT needs.
Tech support can be delivered by phone, email, live chat or video, chatbots, online tutorials, and even via software that enables an IT tech to remotely connect to and control your PC.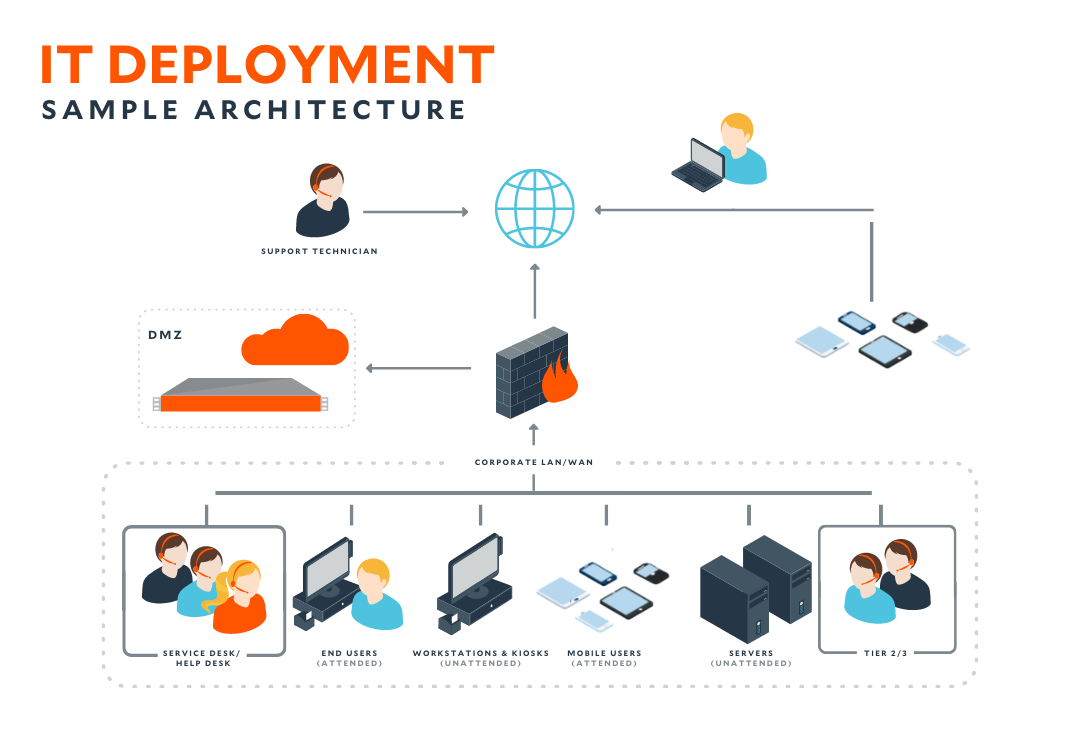 Types of IT Support Services by Level
IT support is tailored to the needs of the specific company. Here is an overview of the different tech support Levels and types of support you can expect to receive from each.
Level 0 - Self help
At this level, users can retrieve support information themselves, typically involving minimal assistance from an IT professional. This involves running search queries, pulling information from websites, FAQs, technical manuals, blog posts, app pages, service catalogs, knowledge base articles, and potentially even chatbots.
Level 1 – Help Desk / Service Desk
This is your first line for direct tech support. These are your Helpdesk Operators, IT Call Desk support, First Line Support Engineers, and First-Line Network Support Analysts. Users interact through the phone or web (sometimes chat only) with an IT professional and then receive support for basic issues, known problems, and service requests. Your first-line support provider should have a broad range of general knowledge. This will allow them to quickly resolve most basic user problems so the user can get back up and running with minimal downtime. The service desk technician may use remote support technology to take remote control of your computer at this stage.
For Levels 1-4 (even with external technicians) session sharing commonly occurs. We've all experienced this in one form or another, most often when a support technician puts you on hold to ask a question. With modern support tools, other technicians (be they up or down the support chain) can be consulted in real time. This can greatly improve the customer experience and positively affect service desk metrics, such as time-to-resolution.
Level 2 – Technical Support
Level-two technical IT support will have more in-depth, specialized knowledge and experience with the product or service that aligns with the incident. They are most likely to be Second-Line Support Engineers, Customer Support Technicians, and Desktop Support Analysts. Typically, the incidents addressed at this level require more technical expertise. Having the right IT support certifications in this scenario is a must. Here, your technical support personnel will assess the issue and provide a solution. This process may entail multiple conversations between the technical IT support technician and the client. IT services may need to take remote access control to fix the problem.
Level 3 – Expert Product and Service Support
This is where the highest technical resources are accessed for incident resolution. These support staff are the most highly skilled product and service specialists, including Network Specialists, Server Engineers, Third-Line Support Engineers, and the engineers, programmers, and even the chief architects who created the product or service. They will attempt to duplicate the problem to define the root cause and issue a new fix. Once the fix is issued, it will be documented for future use by Level-one and -two customer support technicians.
Level 4 – Outside Support
Level four IT support involves preferred vendors and business partners who are contracted from outside the organization to provide support for items that are not directly serviced by the organization. This might include things like printer support, vendor software support, machine maintenance, and depot support.
Unattended access versus attended access support
The above levels of support are applied in service of both attended access and unattended support scenarios. Often, to resolve an issue with minimal downtime, a customer support technician will take remote control of the device experiencing the issue.
Many remote support technologies will provide the tech support agent with secure access to the device. When a service desk provides remote support to resolve an issue for an employee or customer, this is referred to as attended access.
Often, support must be performed on devices, applications, and systems without a human operator present on the support target. In these cases, a certified IT specialist can remotely gain unattended access to the piece of equipment or machinery, troubleshoot, and even resolve the issue without requiring a technician on site, or an end user on the device. This is referred to as unattended support. Unattended support can be used for anything from issuing mass updates to endpoints, to troubleshooting an unattended server, to problem-solving an issue with a piece of machinery at a remote location. Because unattended access typically takes the form of privileged access across sensitive system assets—sometimes en masse—it is particularly important to have strong privileged access security controls in place. These PAM controls should include enforcing least privilege. Additionally, layering on session monitoring will provide a clean audit trail of everything that occurred during a support session.

How does service desk support typically work?
There are two common IT support infrastructures: tiered technical support and swarming support.
Tiered support uses the IT support levels, mentioned above, as its organizational model. A tech issue is introduced at an early level and then is escalated to higher levels of support as required. For instance, if the issue can't be resolved quickly and efficiently by the level-1 service provider, the issue will be recorded and escalated to Level 2.
Swarming support, on the other hand, allows one service desk technician to work on a problem from start to finish. Rather than escalating the issue to a higher tier of support, the technician will seek the proper resources needed to resolve the issue. The technician typically has to "swarm" with other peers until enough information and resources are available to resolve the issue.
What types of issues are resolved by IT support?
Help desks offer tech assistance for users of technology products or services. This support is typically required when a software or technical problem occurs—but software and technical issues cover a large scope. Let's breakdown the common types of problems that IT support may handle.
1. Troubleshooting hardware, software, server maintenance, and other tech issues
Most offices now require employees to access multiple different hardware and software tools during day-to-day operations. Tech support teams will help ensure servers remain operational and properly maintained. They will also ensure that any endpoints and applications are operating properly to avoid interference with efficiency or uptime. This support can include troubleshooting and mitigating or resolving issues like computers shutting down for no reason or overheating, slow computer speeds, software faults, printer and other device connection issues, network and internet connection issues, etc. They may also maintain hardware and install updates and security patches to desktops, as well as updates to modems and routers.
2. Viruses, malware, security breaches
IT support is the frontline defense for implementing cybersecurity solutions that can prevent cyberattacks and mitigate the risk when a breach does occur. Such support activities include:
Performing network monitoring and security - controlling access to a business's network by issuing and removing authorization as needed, building firewalls, installing antivirus software, installing VPNs, updating security patches, and performing regular network checkups.
Educating the workforce – implementing email and download policies and protocols, informing the workforce about those new protocols, and initiating tests and fail-safes to ensure compliance and breaches.
3. Data backups
Your service desk may manage the information backup services that protect your business in the event of a breach, power outage, or system failure. They may manually or automatically run file backups, server backups, and even desktop backups. They will also test back-up sets to make sure the information can be recovered in its entirety. This protects against information loss and ensures data security. For instance, in the event of a breach, a secure backup can help jumpstart operations. Data backups can be managed:
In the Cloud
On-premises servers
Off premises servers
Hybrid/combination
4. Password Recovery and Access issues
These can impact internal- or external-facing IT customers. Let's face it, everyone has a lot of passwords to remember. A help desk technician can help when an employee can't get logged into their PC, email account, etc. They can reinstate user rights or reset your password for you if the problem was as straightforward as a forgotten password. If there is something more complex going on, they can investigate and provide a solution.
Additionally, if a third-party organization needs to gain access to any part of the network (ie: for repairs), or if an employee requires temporary access to restricted information for the completion of a project, your IT support team may be responsible for enabling authorization for the duration of time access is required. Remote vendor access should always adhere to a just-in-time access model. Access should be finite and revoked immediately when the work is completed, or after a pre-defined amount of time has expired.
5. Remote or hybrid enablement
Whether it is connecting databases so information can be shared between systems, connecting a remote workforce so employees can access company data and resources from remote offices, or connecting remote workers to each other through communication channels, IT support is instrumental in facilitating continuing operations in today's remote, on-prem, and hybrid workspaces. In addition to enabling operations, IT teams are also critical in ensuring that the means of communication and connectivity remain secure so that, as a company's network and infrastructure expands to accommodate its remote components, the attack surface is kept in check.
6. Monitoring, Health Checks, and Information Reporting
IT services are also critical in monitoring your network, performing health checks, keeping track of who has access to business information, troubleshooting for signs of issues, and tracking updates to systems and security. They can also generate reports to assist in decision-making and auditing.
Help Desk, Service Desk, Technical Support...What is the Difference?
While the terms are often used interchangeably, there is an important distinction between a help desk, a service desk, and technical support. Respectively, each will have its own compliment of help desk certifications, service desk certifications, or technical support certifications to distinguish them, but here are some other key distinctions that set them apart.
What is a Help Desk?
A help desk is set up to offer quick support and rectification to the most basic of technical problems. These queries and requests tend to fall into the tier 1 level of support. The support agent will prioritize creating a positive user experience with quick response times, flexible contact options, and fast resolution times. The types of issues a help desk is most equipped to support include password issues, software and application support, and server backups. Most of these issues can be resolved over the phone or via a remote connection to the user's device.
What is a Service Desk?
The service desk can be thought of as an evolved help desk. It has its origins in the concept of managing IT as a service. Whereas the help desk is tactical and focused on fixing what is broken, a service desk is more strategic. It manages IT incidents and service requests directly with the users.

What is Tech Support?
Technical support offers more technical input than either the help desk or the service desk. A tech support call center will take on the problems that can't be resolved by the help desk—the issues that get upgraded to the higher tiers of IT support. Tech support agents require extensive technical knowledge and handle a variety of different issues.
What are the most common help desk problems?
Amid today's work-from-anywhere world, help desks and IT support teams are facing the following challenges:
1. Process Inefficiencies
Redundancies, inefficient processes, lack of transparency, poor IT security hygiene, and poor documentation all pose challenges to your IT support team. These issues can bog down the IT team, interfere with the ability to oversee and run health checks, and prevent important problems from being properly reported on.
2. Inadequate tools
This challenge became particularly apparent during the height of pandemic lockdown. In an effort to rapidly adapt to the sudden need to establish a remote-friendly infrastructure, organizations and employees adopted numerous new technologies (shadow IT). This massive shift with little pre-planning introduced numerous security risks, which attackers have been effectively exploiting over the past couple years. In addition, the new normal and rapid expansion of digital transformation overwhelmed IT teams who now needed to work to integrate and connect new technologies.
3. Lack of training
This challenge has two parts to it. First, there is a lack of end-user training that creates more demand on the IT professionals as more tickets get filed in response to user error or user misuse. Second, there is a lack of IT technology training for IT professionals. Helpdesks need continuous training to keep their skills and help desk certifications up to date amid the uprise of new technologies and new security risks. Additionally, there is a shortage of skilled IT professionals. This results in an increase in non-traditional IT professionals entering IT support roles. These non-traditional workers may have a long learning curve and intensive training to get up to speed.
4. Rate of change
Digital transformation, the adoption of new on-prem and cloud technologies, the need for remote-enabled and work-from-anywhere workplaces, and even more traditional changes, like company mergers, etc. are occurring at a fast pace. This means IT support teams must work quickly to integrate new technologies, make data and documentation available through these technologies, and secure access without interfering with transparency or operability.
5. Perimeterless networks
Networks that expand beyond the office building create the necessity for security—both physical and cybersecurity—that can match the perimeterless sprawl of technology, workers, and multicloud environments.
How is the effectiveness of IT support measured?
To ensure optimal support, it's imperative to measure and understand the effectiveness of your helpdesk. Here are the top key performance indicators (KPIs) and metrics to measure support team performance:
Ticket volume trends: This indicates the total number of tickets that the IT support desk handles and the pattern of those numbers over a period of time. Analyzing these trends can indicate how much support is needed. Any increases or decreases in support requests after services are offered, or when new software or solutions are introduced, can help measure the effectiveness of implementation. Viewing this data can also help support teams optimize and manage resources, validate additional resource requirements, and plan ahead for peak times to ensure less downtime.
Ticket backlog: These are the customer support requests that are left unresolved. A ticket backlog can indicate whether or not your tech support team is resourced to handle the number of support requests that are filed. If the backlog is too high, further strategies may be needed to lower the number of tickets that are being filed (ie: employee training on a specific tool or software).
Mean time to resolve (MTTR): This is the average time it takes for the IT support team to resolve a customer's issue. MTTR is different from the average first response time, which indicates the average length of time it takes for tech support to initiate a response to a ticket. The goal is to aim for short resolution times. Efficient IT support teams will use MTTR as a key metric to work towards for their own improvement.
First call/contact resolution rate (FCRR): This indicates the percentage of tickets that are fully resolved within a single response. Submitting a support ticket prompts the user to submit enough information for the IT professional to assess and resolve the problem without needing to engage for follow-up information. A high first call resolution rate can also reflect that your tech support team has adequate training and resources to resolve a high proportion of issues upon first response. This metric is correlated to both end-user satisfaction and cost-per-ticket.
End user satisfaction: End-user satisfaction—sometimes referred to as the customer satisfaction score (CSAT)—is another measure for support desk efficiency. High scores here will likely validate efficiencies being measured in the other categories.
Cost-per-ticket: This metric is calculated by dividing the total monthly operating expense of the help desk by the monthly ticket volume. The goal is to maintain levels of costs. Spikes in cost can be indicative of inefficiencies, training needs, or resource requirements.
Lost business hours: These are the total calculated hours of business operability that are lost or disrupted over time period due to IT issues. Help desk inefficiencies, under-resourcing, lack of training, and inadequate technical support tools can all impact this number.
Change success rate: This refers to change implementation, or the implementation of adjustments or replacements to processes, systems, software, hardware, etc. within an organization. It also measures the number of successful changes compared to the number of executed changes. Failed changes are changes that did not meet their objectives. When tracking these numbers, it is also important to track the number of unplanned, emergency, or urgent changes.
Infrastructure stability: This is characterized by a maximum availability of IT professionals and IT technology tools, a low number of lost business hours, and a low number of major incidents.
Software asset utilization rate: This refers to the percentage of software products and licenses that are in use by the business, categorized as software with high risk or high implication (category 1); free software (category 2); and prohibited software and malware (category 3).
The most essential tools for IT support
The effectiveness and efficiency of your IT support team is connected to the level of IT support certifications they've obtained, but it is also highly correlated to the resources, tools, and technologies set up to empower them. Consequently, it's important to have the right ecosystem of IT support solutions in place. Here are the top technologies for enabling your IT support team.
1. Communication technologies – One of the foundational components of a help desk's ability to properly function is its ability to communicate, whether its end users are off-site, on-prem, or remote. This means you must have established and ideally integrated communications technologies, including email, VoIP, teleconferencing, video calling, and chat. More types of communication mean more accessibility, but having an integrated source for these varied types of communication will help ensure efficiency of communication, and higher levels of security.
2. Ticketing tools & IT service management (ITSM) – Tools for the creation and submission of IT support requests are essential, but for proper IT support, an IT service management system should also be in place. An ITSM solution is a streamlined ticketing system that enables information tracking to allow those tickets to be opened, assigned, and for their progress and completion to be monitored and reported. A few top ITSM examples include ServiceNow, Cherwell Software, ZenDesk, and JIRA, etc.
3. Remote support tools – Remote support technologies allow an administrator's computer to remotely access another computer or device (PC- and Mac-based desktops, mobile devices, servers (Windows, Unix, Linux, etc.), point-of-sale (POS) systems, etc.) so they can view, and even interact, with that device to facilitate tech assistance via an internet connection. Remote support tools help IT support teams navigate and manage the increasing complexity of today's digital environments. They help maintain connectivity between multiple devices, software, cloud environments, and networks to ensure high levels of organizational productivity, and to ensure security compliance standards are being met. Using a single tool for remote support can help improve incident handling time, technician productivity, and other important KPIs. Because remote support sessions often entail some degree of privileged access, it is imperative that robust remote access, password management, and other security features be baked into the solution. In addition, the tool should monitor, log, and manage every remote support session to ensure proper oversight and auditability.
4. Self-service or employee portal and knowledge base – A tool to enable end users to self-service their own technical support issues. The support portal should provide accurate and reliable guides, system documentation, FAQs, and an easy way to escalate more complicated issues to a help desk agent. A support portal and knowledgebase can increase end-user satisfaction. It can also significantly reduce the task load for your IT support team by providing end users with knowledge access and training.
5. Change and problem management tools – The right change management tools can help organizations plan, manage, report, and audit the impacts and effects of change management initiatives. These can include projects, resource changes, etc. Change management tools will also help with management of workflows and communication during complex process changes.
The most essential tech support features
Now that you know the best tools to enable your IT department, here are the top features and capabilities to look for in those IT technologies to ensure success:
Chat – In addition to helping exchange more information about the problem, chat can allow the technician to send links, knowledge base articles, and even canned responses. Additionally, chat can be used between tiers of the service desk, and potentially, with an external entity. This ability to extend the reach of an initial touch point keeps the customer from feeling like they are being "bounced around." It also allows the rep to expand their knowledge and exposure to problem-solving in real time. Chat transcripts should be available for audit and training purposes as well.
Automation – Automating some or many components of the help desk can free up time for your IT professional to focus on completing the higher-impact queries faster and more efficiently. For example, automatically running canned scripts in the background can solve common issues or illuminate problems faster. This can help the service desk increase efficiency and decrease resolution times.
Collaboration – Your IT team should be able to collaborate easily on queries. They should also be able to access, tag, prioritize, and assign tasks to ensure smooth operations. This collaboration could look like a Tier 1 tech working seamlessly with someone in Tier 3, or it could be a shared session with an external vendor/partner. Either way, collaboration is a powerful component as organizations strive to improve customer satisfaction.
Integration – APIs and service integrations are critical to ensuring the success of your digital and IT ecosystems. You don't want your IT technologies to interfere with business operations--they should enhance them. One of the best ways to do this is to allow support activity to be initiated through the system of record (ITSM solution). Features that enhance the user experience include the ability for customers to generate sessions from the ticket they just opened, the ability for the tech to initiate support through the ticket they are responding to, and the ability to contextualize the audit logs that reside inside the ticket.
Self-service – Your end users should be able to troubleshoot for themselves, to a point, using an accessible dashboard or resource pool. This will keep your IT department focused on the higher-impact tasks.
Reporting – One of the most critical components of success is auditability. Having the ability to submit and monitor reports easily means having access to accurate metrics that can be analyzed regularly to audit for success. Additionally, there are often external audit rules in industries like healthcare, financial services, and government entities. It is imperative that the solution employed for remote technical support balances internal reporting needs, those imposed by compliance standards, and broader considerations, like GDPR, that seek to limit data collection.
Troubleshooting – The IT support systems should provide the transparency and visibility necessary for your team to quickly and easily troubleshoot problems, identify security threats, and more. Remote system control is often the core of a troubleshooting interaction. It is critical that these interactions are made simple for all parties. The messaging that is provided on session close is also important in many cases. For both attended (someone is at the remote system) and unattended (no one at the remote system) sessions, it is often important to clarify that remote access has ceased at the end of the session.
Adaptability and Scalability – The best tech support tools are readily adaptable to changes in the IT and work environments. For instance, being able to shift from office-based to remote workforces. Further, these tools should be scalable so they can grow with the organization and its evolving needs.
Securely Supporting & Enabling Your Business
IT support is a pivotal factor for the operational success of any business. Consider how many technological cogs need to function and integrate to meet the daily operational requirements of your industry. As more organizations are trending towards digital transformation and remote, work-from-anywhere environments, having properly equipped and resourced tech support is only becoming more critical.
Learn how to address all your secure remote support needs with one powerful solution.
Laura Bohnert,

Sr. Marketing Content & PR Manager
As a Sr. Marketing Content & PR Manager at BeyondTrust, Laura Bohnert applies a multifaceted, tech-centered marketing skillset to help drive SEO, blog, PR, and product marketing in support of BeyondTrust's demand generation and sales enablement initiatives. She has a diverse background in product marketing, brand marketing, content writing, social media, event coordination, and public relations. Outside of the tech world, she has a passion for literature, with a BA, MA, and PhD Candidacy in English Literature, and she can either be found beekeeping, restoring her historic haunted house, or continuing her dissertation on the psychological interpretations of ghosts in gothic and horror fiction.