For those readers who are unfamiliar with augmented reality, it refers to an interactive experience of a real-world environment where the objects that reside in the real world are enhanced by computer-generated perceptual information including sounds, drawings, and even additional visual objects. Let me briefly illustrate this with a remote support use case example.
If you have a transcription from a recent IT technical support session, the dialogue might look something like this:
User: Hi, I received my new laptop today and do not know where to plug in my printer.
Helpdesk: Thank you for contacting us. I see you were issued a new MacBook. Is that correct?
User: Yes, but the new laptop does not have a connector that matches my printer.
Helpdesk: May I use augmented reality on your phone to help?
User: Yes, what should I do?
Helpdesk: I am enabling your phone's camera. Can you show me the cable you have for your printer and then your computer?
User: Yes, here is my printer cable, and here is the side of my computer, they do not match.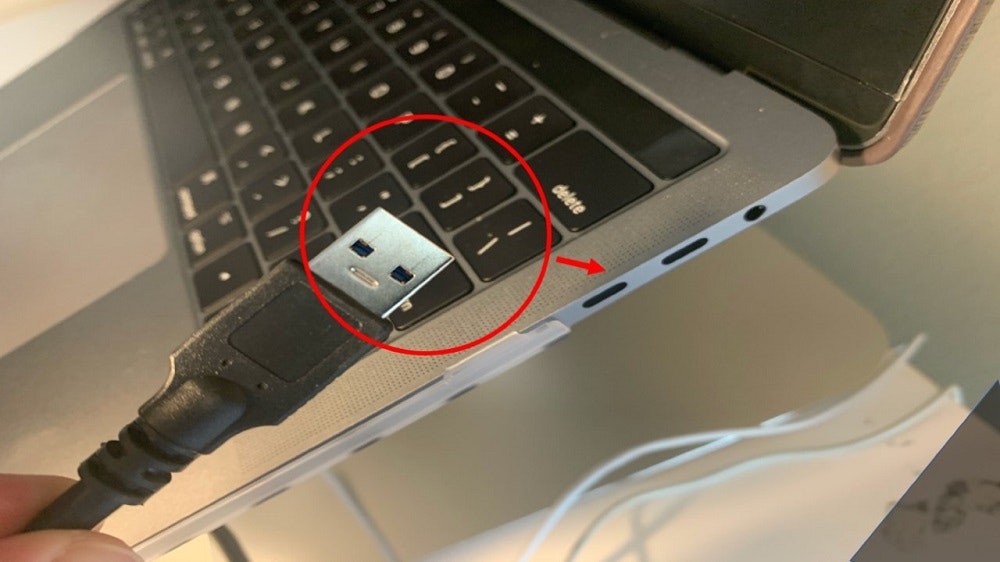 Helpdesk: Thanks, in the box there should have been a dongle to connect the two together. Did you find it?
User: No. I do not have a dongle in the box. I only received the laptop.
Helpdesk: Ok, I will have one ordered and sent to you so you can connect the laptop to your printer. Can I help you with anything else?
User: No. Thanks--perfect. Can you send a tracking number once it is sent?
Helpdesk: Absolutely. Have a great day.
What stands out in this session is the adaptive usage of augmented reality as a help desk tool. Augmented reality enabled the help desk technician to instantly see what the user is seeing, resulting in a fast resolution, as opposed to a prolonged support experience involving awkward, imprecise descriptions and the sending of photos.

Augmented reality allows for components of the digital world (in this case a simple arrow and a circle) to be blended into a person's perception of the real world. The screenshot used in the example above is what the end user sees to verify that the connectors are incompatible with each other. This is more than a simple shared photo in the case of our help desk screenshot, but through the integration of video, which can be augmented at any time by help desk staff, illustrate and demonstrate an action in real time.
Augmented Reality in BeyondTrust Remote Support
Augmented reality technology, called InSight, is built into BeyondTrust's Remote Support product. In most support sessions, you just need to see the support customer's screen. But sometimes, it is much more helpful to share the exact perspective as the support customer. That's where BeyondTrust's Insight capability can help make the difference.
With Insight, support technicians can see exactly what the customer sees in real-time, enabling them to offer better guidance faster, driving quicker resolutions times while avoiding prolonged, unproductive exchanges that may typically create customer frustration. Help desk staff can walk a customer through diagnostic and troubleshooting steps by simply drawing on the screen.
When support staff begins annotating a live stream, Insight freezes the frame until the end user clears the annotations. If the customer moves the camera to another view, they can still see your instructions preserving the illustration. Once the annotations are cleared, the live camera sharing will resume and be ready for the next steps in the process.
During the augmented reality connection via Insight, the session allows for chat, screen sharing, and voice communication to help assist the customer in every way possible. Insight is the perfect solution for remote troubleshooting within any environment where a visual aid can make all the difference toward achieving a speedy resolution.
If you need an extra set of eyes for you next remote support session, please consider BeyondTrust Remote Support and Insight. BeyondTrust's approach to augmented reality can expedite support calls in the most complex environments and easily provide a return on investment in high-touch environments. To learn more, contact us today.
Morey J. Haber,

Chief Security Officer, BeyondTrust
Morey J. Haber is the Chief Security Officer at BeyondTrust. He has more than 25 years of IT industry experience and has authored three books: Privileged Attack Vectors, Asset Attack Vectors, and Identity Attack Vectors. He is a founding member of the industry group Transparency in Cyber, and in 2020 was elected to the Identity Defined Security Alliance (IDSA) Executive Advisory Board. Morey currently oversees BeyondTrust security and governance for corporate and cloud based solutions and regularly consults for global periodicals and media. He originally joined BeyondTrust in 2012 as a part of the eEye Digital Security acquisition where he served as a Product Owner and Solutions Engineer since 2004. Prior to eEye, he was Beta Development Manager for Computer Associates, Inc. He began his career as Reliability and Maintainability Engineer for a government contractor building flight and training simulators. He earned a Bachelor of Science degree in Electrical Engineering from the State University of New York at Stony Brook.